The Loxton Club prides itself on being a family friendly venue. We understand the challenges of parenthood and going out and we have worked hard to make the Loxton Club a place where you and the kids can enjoy an evening out to dinner.
The Club is a popular place for local Mum's Groups to meet and enjoy a well-earned coffee in our relaxed lounge area while the kids enjoy the movie and games room and the huge undercover playground.
Children's Birthday Parties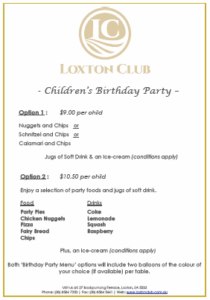 We provide a fantastic venue to host your child's next birthday party. The fully fenced undercover playground will provide hours of fun for your child and their friends.
We have special menus just for children's birthday parties and we are happy to cater to your needs and any special requests. We can even organise the balloons and serve your cake! Leave the hard work and mess to us and just sit back and enjoy the smiles on the kid's faces.